This post contains : Best Rumi Quotes, Rumi Quotes on Love, Rumi Quotes on Lovers, Rumi Quotes on Friendship, and Rumi Quotes on Beauty.
Whatever Rumi has said about love, they all have very beautiful and deep meaning. His quotes explaining the true meaning of love are very important.
He was a 13th-century Persian poet, faqih, Islamic scholar, theologian, and Sufi mystic.
Full Name : Jalāl ad-Dīn Muhammad Rūmī
Nick Name : Mevlânâ/Mawlānā ( Our Master )
Born : 30 September 1207
Died : 17 December 1273
Know more about Great Rumi by visiting Wikipedia.
Rumi Quotes on Love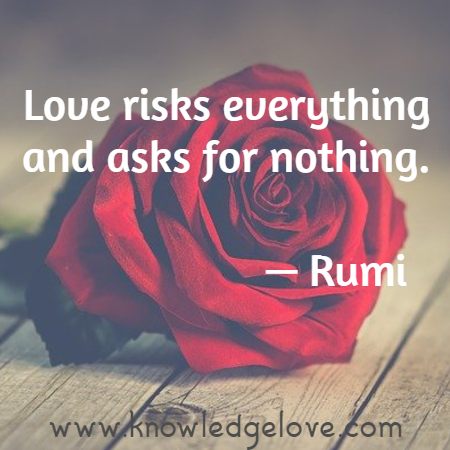 1. Love risks everything and asks for nothing. — Rumi
2. You have within you more love than you could ever understand. — Rumi
3. When you seek love with all your heart you shall find its echo in the universe. — Rumi
4. This is love: to fly toward a secret sky, to cause a hundred veils to fall each moment. First to let go of life. Finally, to take a step without feet. — Rumi
5. Goodbyes are only for those who love with their eyes. Because for those who love with heart and soul there is no such thing as separation. — Rumi
6. This is what love does and continues to do. It tastes like honey to adults and milk to children. — Rumi
7. I have no companion but Love, no beginning, no end, no dawn. The soul calls from within me: 'You, ignorant of the way of Love, set me free.' — Rumi
8. Wherever you are, and whatever you do, be in love. — Rumi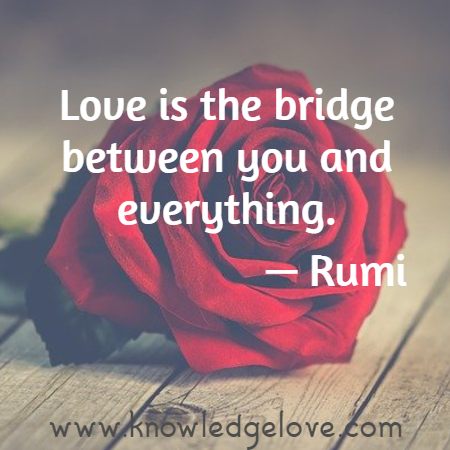 9. Love is the bridge between you and everything. — Rumi
10. Your task is not to seek for love, but merely to seek and find all the barriers within yourself that you have built against it. — Rumi
11. Let your teacher be love itself. — Rumi
12. Let yourself be silently drawn by the stronger pull of what you really love. — Rumi
Let the beauty we love be what we do.
13. Laugh as much as you breathe. Love as long as you live. — Rumi
14. Be drunk with love, for love is all that exists. — Rumi
15. Let us carve gems out of our stony hearts and let them light our path to love. — Rumi
16. Love sometimes wants to do us a great favor: hold us upside down and shake all the nonsense out. — Rumi
17. Discard yourself and thereby regain yourself. Spread the trap of humility and ensnare love. — Rumi
18. Anything which is more than our necessity is poison. It may be power, wealth, hunger, ego, greed, laziness, love, ambition, hate or anything. — Rumi
19. In their seeking, wisdom and madness are one and the same. On the path of love, friend and stranger are one and the same. — Rumi
20. If you want to win hearts, sow the seeds of Love. If you want heaven, stop scattering thorns on the road. — Rumi
21. When I am with you, we stay up all night. When you're not here, I can't go to sleep. — Rumi
22. On the path of love we are neither masters nor the owners of our lives. We are only a brush in the hand of the master painter. — Rumi
Best Rumi Love Quotes
23. This sky where we live is no place to lose your wings so love, love, love. — Rumi
24. If you love someone, you are always joined with them – in joy, in absence, in solitude, in strife. — Rumi
25. Let yourself be drawn by the stronger pull of that which you truly love. — Rumi
26. Now I am sober and there's only the hangover and the memory of love. — Rumi
27. Travel brings power and love back into your life. — Rumi
28. Come out of the circle of time and into the circle of love. — Rumi
29. If destiny comes to help you, love will come to meet you. A life without love isn't a life. — Rumi
30. With life as short as a half-taken breath, don't plant anything but love. — Rumi
31. I am a child whose teacher is love surely my master won't let me grow to be a fool. — Rumi
32. Grief can be the garden of compassion. If you keep your heart open through everything, your pain can become your greatest ally in your life's search for love and wisdom. — Rumi
33. Whoever finds love beneath hurt and grief disappears into emptiness with a thousand new disguises. — Rumi
34. Stop, open up, surrender the beloved blind silence. Stay there until you see you're looking at the light with infinite eyes. — Rumi
Read : Love Quotes
Quotes about love
Rumi Quotes about Love
35. There is one way of breathing that is shameful and constricted. Then, there's another way: a breath of love that takes you all the way to infinity. — Rumi
36. Thankfulness brings you to the place where the beloved lives. — Rumi
37. Love is the water of life, jump into this water. — Rumi
38. Without love, all worship is a burden, all dancing is a chore, all music is mere noise. — Rumi
39. Dance, and make joyous the love around you. Dance, and your veils which hide the Light shall swirl in a heap at your feet. — Rumi
40. Those who don't feel this love pulling them like a river, those who don't drink dawn like a cup of springwater or take in sunset like a supper, those who don't want to change, let them sleep. — Rumi
41. Would you become a pilgrim on the road of love? The first condition is that you make yourself humble as dust and ashes. — Rumi
42. Love is the water of life. Everything other than love for the most beautiful God is agony of the spirit, though it be sugar-eating. What is agony of the spirit? To advance toward death without seizing hold of the water of life. — Rumi
Best Rumi Quotes on Friendship
43. There is nothing I want but your presence. In friendship, time dissolves. — Rumi
44. Be a helpful friend, and you will become a green tree with always new fruit, always deeper journeys into love. — Rumi
45. My friend, the sufi is the friend of the present moment. To say tomorrow is not our way. — Rumi
46. Stay with friends who support you in these. Talk with them about sacred texts, and how you are doing, and how they are doing, and keep your practices together. — Rumi
47. A warm, rainy day-this is how it feels when friends get together. Friend refreshes friend then, as flowers do each others, in a spring rain. — Rumi
48. Friendship of the wise is good; a wise enemy is better than a foolish friend. — Rumi
49. Be with those who help your being. — Rumi
50. If you are looking for a friend who is faultless, you will be friendless. — Rumi
51. Friend, our closeness is this: anywhere you put your foot, feel me in the firmness under you. — Rumi
52. Till man destroys "self" he is no true friend of God. — Rumi
Best Rumi Quotes on Beauty
53. Make peace with the universe. Take joy in it. It will turn to gold. Resurrection will be now. Every moment, a new beauty. — Rumi
54. This silence, this moment, every moment, if it's genuinely inside you, brings what you need. There's nothing to believe. Only when I stopped believing in myself did I come into this beauty. Sit quietly, and listen for a voice that will say, 'Be more silent.' Die and be quiet. Quietness is the surest sign that you've died. Your old life was a frantic running from silence. Move outside the tangle of fear-thinking. Live in silence. — Rumi
55. The only lasting beauty is the beauty of the heart. — Rumi
56. On a day when the wind is perfect, the sail just needs to open and the world is full of beauty. Today is such a day. — Rumi
57. The sky will bow down to your beauty, if you do. — Rumi
58. The beauty you see in me is a reflection of you. — Rumi
59. In your light I learn how to love. In your beauty, how to make poems. You dance inside my chest where no-one sees you, but sometimes I do, and that sight becomes this art. — Rumi
Quotes about Beauty
60. By God, when you see your beauty you will be the idol of yourself. — Rumi
61. Let the beauty we love be what we do. — Rumi
62. Beauty surrounds us, but usually we need to be walking in a garden to know it. — Rumi
63. Oh soul, you worry too much. You have seen your own strength, You have seen your own beauty, You have seen your golden wings. Of anything less, why do you worry? You are in truth the soul, of the soul, of the soul. — Rumi
64. Make peace with the universe. Take joy in it. It will turn to gold. Resurrection will be now. Every moment, a new beauty. — Rumi
65. Everything that is made beautiful and fair and lovely is made for the eye of one who sees. — Rumi
Best Rumi Quotes on Nature
66. Always search for your innermost nature in those you are with, as rose oil imbibes from roses. — Rumi
67. The breeze at dawn has secrets to tell you. Don't go back to sleep. — Rumi
68. There is a moon inside every human being. Learn to be companions with it. — Rumi
69. Who could be so lucky? Who comes to a lake for water and sees the reflection of moon. — Rumi
70. Daylight, full of small dancing particles and the one great turning, our souls are dancing with you, without feet, they dance. Can you see them when I whisper in your ear? — Rumi
71. Your heart is the size of an ocean. Go find yourself in its hidden depths. — Rumi
72. Listen to the sound of waves within you. — Rumi
Read : John Muir Quotes on Nature
Rumi Quotes on Marriage
73. May these vows and this marriage be blessed. — Rumi
74. The minute I heard my first love story I started looking for you. — Rumi
Rumi Quotes on Lovers
75. There is no salvation for the soul but to fall in love. Only lovers can escape out of these two worlds. — Rumi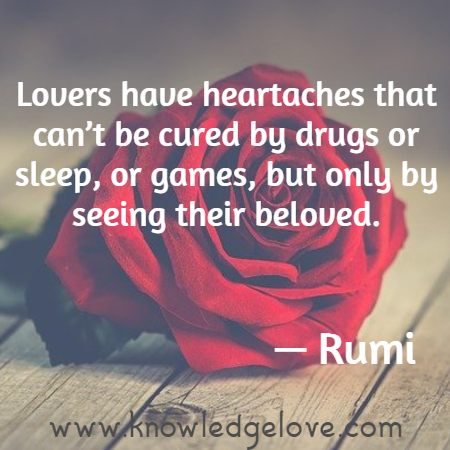 76. Lovers have heartaches that can't be cured by drugs or sleep, or games, but only by seeing their beloved. — Rumi
77. Two there are who are never satisfied – the lover of the world and the lover of knowledge. — Rumi
78. Lovers don't finally meet somewhere. They're in each other all along. — Rumi
79. The minute I heard my first love story I started looking for you, not knowing how blind that was. Lovers don't finally meet somewhere. They're in each other all along. — Rumi
Rumi Quotes on Silence
80. This silence, this moment, every moment, if it's genuinely inside you, brings what you need. There's nothing to believe. Only when I stopped believing in myself did I come into this beauty. Sit quietly, and listen for a voice that will say, 'Be more silent.' Die and be quiet. Quietness is the surest sign that you've died. Your old life was a frantic running from silence. Move outside the tangle of fear-thinking. Live in silence. — Rumi
81. Stop, open up, surrender the beloved blind silence. Stay there until you see you're looking at the light with infinite eyes. — Rumi
82. Silence is an ocean. Speech is a river. When the ocean is searching for you, don't walk into the river. Listen to the ocean. — Rumi
83. Silence is the language of God, all else is poor translation. — Rumi
84. Keep silent, because the world of silence is a vast fullness. — Rumi
85. Let silence take you to the core of life. — Rumi
86. Let silence be the art you practice. — Rumi
87. In silence there is eloquence. Stop weaving and see how the pattern improves. — Rumi
Inspirational Quotes of Rumi
88. Be empty of worrying. Think of who created thought. — Rumi
89. Always remember you are braver than you believe, stronger than you seem, smarter than you think and twice as beautiful as you'd ever imagined. — Rumi
90. Only from the heart can you touch the sky. — Rumi
91. Stop acting so small. You are the universe in ecstatic motion. — Rumi
92. Whatever lifts the corners of your mouth, trust that. — Rumi
93. Be like a tree and let the dead leaves drop. — Rumi
94. It's your road and yours alone. Others may walk it with you, but no one can walk it for you. — Rumi
95. In the blackest of your moments, wait with no fear. — Rumi
96. I want to sing like the birds sing, not worrying about who hears or what they think. — Rumi
97. What you seek is seeking you. — Rumi
98. As you start to walk on the way, the way appears. — Rumi
99. Everyone has been made for some particular work, and the desire for that work has been put in every heart. — Rumi
100. The world is a mountain, in which your words are echoed back to you. — Rumi
Read : Love for Life Quotes