Hanuman Chalisa in English : Hanuman Chalisa is a great mantra to worship and praise Lord Hanuman. It is also very difficult to estimate the power of Hanuman Chalisa. It can be called a very powerful mantra or shloka.
There are forty verses of praise of God Hanuman in Hanuman Chalisa.
How to recite Hanuman Chalisa and what are the benefits of reciting it? We will discuss this in our second post.
This Post contains :
Hanuman Chalisa in English
Hanuman Chalisa in English Lyrics
Shri Hanuman Chalisa in English PDF
Hanuman Chalisa in English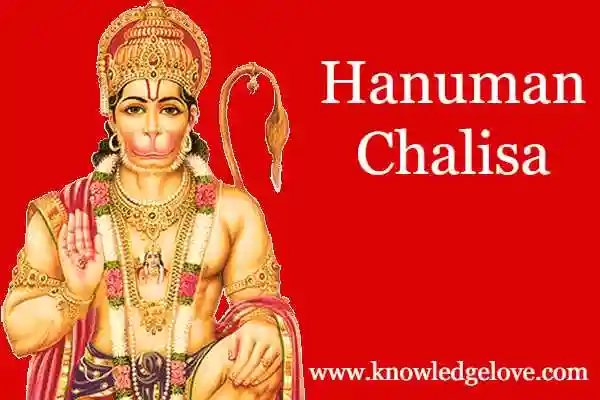 || Doha ||
Shri Guru Charan Saroj Raj,
Nij Man Mukuru Sudhari.
Barnau Raghuvar Bimal Jasu,
Jo Daayak Phal Chari.
Buddhi Hin Tanu Janike,
Sumiro Pawan Kumar.
Bal Buddhi Viddhya Dehu Mohi,
Harahu Kalesh Vikar.
|| Chaupai ||
Jai Hanuman Gyan Gun Sagar,
Jai Kapis Tihun Lok Ujagar.
Ram Dut Atulit Baldhama,
Anjani Putra Pawan Sut Nama.
Mahawir Vikram Bajrangi,
Kumati Niwar Sumati Ke Sangi.
Kanchan Waran Biraj Subesa,
Kanan Kundal Kunchit Kesa.
Haath Bajra Aur Dhwaja Viraje,
Kaandhe Munj Janeu Sajae.
Shankar Suwan Kesari Nandan,
Tej Pratap Maha Jag Vandan.
Vidhyawan Guni Ati Chatur,
Ram Kaj Karibe Ko Aatur.
Prabhu Charitra Sunibe Ko Rasiya,
Ram Lakhan Sita Man Basiya.
Sukshm Rup Dhari Siyahin Dikhawa,
Vikat Rup Dhari Lank Jarawa.
Bhim Rup Dhari Asur Sanhare,
Ramchandra Ke Kaaj Sanware.
Laaye Sanjiwan Lakhan Jiyaye.
Shri Raghuvir Harashi Ur Laye.
Raghupati Kinhi Bahut Badai,
Tum Mam Priya Bharat Sam Bhai.
Sahas Badan Tumhro Jas Gaave,
As Kahi Shri Pati Kanth Lagave.
Sankadik Brhamadik Munisa,
Naarad, Saarad Sahit Ahisa.
Jam Kuber Digpal Jahan Te,
Kabi Kobid Kahi Sake Kahan Te.
Tum Upkar Sugrivahi Kinha,
Ram Milaay Rajpad Dinha.
Tumharo Mantra Vibhishan Mana,
Lankeswar Bhay Sab Jag Jana.
Jug Sahastra Jojan Par Bhanu,
Lilyo Taahi Madhoor Phal Janu.
Prabhu Mudrika Meli Mukh Mahi,
Jaladhi Laanghi Gaye Achraj Nahi.
Durgam Kaj Jagat Ke Jete,
Sugam Anugrah Tumhare Tete.
Ram Duare Tum Rakhware,
Hot Na agyna Binu Paisare.
Sab Sukh Lahae Tumhari Sarna,
Tum Rakshak Kahu Ko Darna.
Aapan Tej Samharo Aapae,
Tino Lok Haank Te Kanpe.
Bhut Pishach Nikat Nahi Aawe,
Mahawir Jab Naam Sunaave.
Naasae Rog Hare Sab Pira,
Japat Nirantar Hanumat Bira.
Sankat Te Hanuman Chhudave,
Man Kram Wachan Dhyan Jo Lave.
Sab Par Ram Tapasvi Raja,
Tinke Kaaj Sakal Tum Saja.
Aur Manorath Jo Koi Lave,
Soi Amit Jiwan Phal Pave.
Charo Jug Pratap Tumhara,
Hai Parsiddh Jagat Ujiyara.
Sadhu Sant Ke Tum Rakhware,
Asur Nikandan Ram Dulare.
Asht Siddhi Nau Nidhi Ke Data,
As Bar Din Jaanki Mata.
Ram Rasayan Tumhare Pasa,
Sada Raho Raghupati Ke Dasa.
Tumhare Bhajan Ram Ko Pave,
Janam Janam Ke Dukh Bisrave.
Ant Kal Raghubar Pur Jai,
Jahan Janam Hari Bhakt Kahai.
Aur Devta Chit Na Dharai,
Hanumat Sei Sarva Sukh Karai.
Sankat Kate Mite sab Pira,
Jo Sumire Hanumat Bal Bira.
Jai Jai Jai Hanuman Gosai,
Kripa Karahu Guru Dev Ki Naahi.
Jo Sat Bar Path Kar Koi,
Chutahi Bandi Maha Sukh Hoi.
Jo Yah Padhe Hanuman Chalisa,
Hoi Siddhi Sakhi Gaurisa.
Tulsidas Sada Hari Chera,
Kije Nath Hriday Maha Dera.
|| Doha ||
Pawan Tanay Sankat Haran,
Mangal Murati Rup.
Ram Lakhan Sita Sahit,
Hriday Basahu Surbhup.
|| Siyawar RamChandra ki Jai ~ Pawansut Hanuman ki Jai ||
Hanuman Chalisa in English Lyrics Video
Hanuman Chalisa in English PDF
To download Hanuman Chalisa in English PDF, press the download button below. This will bring you to the PDF download page. From where you can print Hanuman Chalisa English PDF with the download if you want.
Request
Read Hanuman Chalisa with full faith and devotion. Have full reverence for Lord Hanuman in the heart.
If there is a need for improvement anywhere in this post, write to us in comments. We will improve it. Also, write us your thoughts and experiences in the comments below.
Get Hanuman Chalisa in Hindi Lyrics and Hanuman Chalisa Meaning in Hindi.